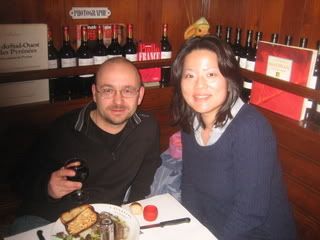 Years ago Chiko and I were supposed to go to Paris together, but unfortunately she had to cancel her trip at the last minute. Ever since I have been wanting to bring her to France and show her the "City of Lights". I've been to Paris on business several times in the last year, and finally we were able to align our schedules so she could join me for my latest trip. We arrived this morning and headed straight to our hotel in the Latin Quarter. Getting off the Metro at Place Mongue, we immediately encountered a daily farmers market. It was nearly 1:00 in the afternoon so they were shutting down, but we'll be back bright and early tomorrow to check out the food.
After dropping our luggage in the room, we had a brief look at the Cathedral du Notre Dame and then immediately went in search of lunch! We headed over to Saint Germain and found a little bistro.
Chiko ordered Moules Frites, a classic dish of steamed mussels and french fries. To make this dish at home, melt a little butter in a large dutch oven and sweat some onions and celery. Add two pounds of mussels (scrubbed and debearded of course) and a cup of white wine. Bring to a boil, reduce heat and cover. Steam the mussels until they open and serve with french fries and/or some good crusty bread to soak up the juice from the bottom of the pot.
I ordered a salad with duck three ways. Slices of smoked duck breast, chunks of duck confit, sauteed duck meat and sliced potatoes (probably cooked in duck fat) topped a salad of lettuce, tomatoes and croutons.
After lunch we walked around and visited the Jardin des Plantes before a late afternoon nap to help get over our jet lag. For dinner, we went to a small restaurant that I ate at with my brother on my first visit to Paris. It specializes in the food and wine of the Languedoc region in the southwest of France.
As an appetizer, Chiko ordered Escargot, which is basically a delivery system for butter and garlic.
I had a fantastic appetizer of marinated anchovies. I'm guessing that the chef took fresh anchovies and salted them for a day or so before marinating them in vinegar and dressing with extra virgin olive oil. They were served with salad greens, butter and toasted bread. Very tasty....
For her main course, Chiko had duck confit. You can buy this in gourmet stores or make it at home. To make your own confit, take several duck legs and pack them in a mixture of salt and herbs de provence. After salting the duck for a couple of days, rinse well, pat dry and place in a large dutch oven or roasting dish. Add a handful of whole garlic cloves and enough rendered duck fat to completely cover the duck legs. Bake at 250 degrees for three hours, cool and store covered in duck fat in the refrigerator for up to three months. To serve, remove a duck leg from the refrigerator and scrape off any excess duck fat, making sure to leave the skin of the duck intact. Heat a frying pan over medium high heat, cast iron is really good for this, and place the duck leg in skin side down. Cook for 5 to 6 minutes until the skin is golden brown and crispy, then turn over and cook for another 5 minutes and serve.
My main was a rustic french classic called cassoulet. It is a slow cooked casserole of beans along with a variety of duck and pork meat. When my dad had his restaurant we made this dish with white cannelini beans, duck confit and a garlicky sausage like kielbasa. At the restaurant this evening they used very large beans (possibly favas), along with duck confit, cured pork belly (unsmoked bacon) and a sausage that reminded me of a cotecchino only smaller.

For wine, we had a carafe of Madiran, a red wine from Gascony. It was strong and relatively tannic so it paired well with the rich food.
For dessert, Chiko had vanilla ice cream with candied chestnuts and I had a creme brulee with the interesting addition of prunes. The proprieter gave us a couple glasses of their homemade eau de vie, a sort of french grappa.
With all that food filling our bellies, we decided to take a nice long walk. We went up past St. Germain, across the Ile de la Cite and all the way to the Louvre. From there we crossed back to the left bank and followed the Seine all the way back to our hotel. Hopefully that two hour walk on a crisp, clear evening burned off some of those calories
!