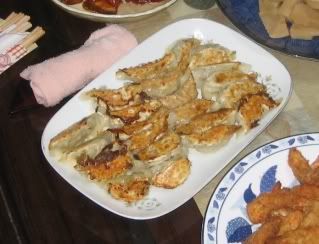 Just got back from Japan, and I was lucky enough to spend some time with the family that I lived with as an exchange student over 20 years ago. My Japanese mom is named Kuniko, and she is a fabulous cook. In fact, after being a stay at home mom and raising her four children (plus me for one of those years), she took a job in the kitchen at their local hospital. For as long as I can remember, she has been famous throughout the neighborhood for her Gyoza (Japanese potsticker dumplings). While I have watched her make them in the past, and even helped her stuff the dumplings, this time around I took the opportunity to write down the recipe and photograph the process.
Ingredients for Gyoza Filling (makes about 28 gyoza):
1/2 lb ground pork (you could substitute chicken or turkey)
3/4 pound seasonal cabbage (green cabbage in winter or Napa cabbage in spring/summer)
1/4 bunch chives
1 Tbsp ground fresh ginger
1 garlic clove finely minced
1 Tbsp sake
1 Tbsp soy sauce
1 tsp sesame oil
Chop the cabbage finely, and sprinkle with salt. Wait 10 minutes, then wrap the salted cabbage in a clean dish towel and squeeze out the excess moisture. This will prevent the filling from being to wet and making the dumplings fall apart. Mix all the ingredients well, then take a tablespoon of the filling and fry it quickly. Taste for seasoning and add salt and pepper if necessary.
Get a package of Gyoza wrappers at your local asian market.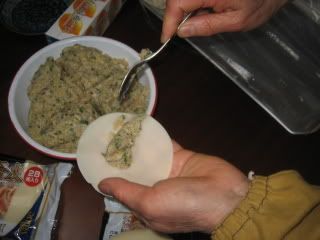 Place a wrapper in the palm of your hand and place a teaspoon of filling in the center.
Wet your finger and run a thin line of water around the perimeter of the wrapper.
Fold the wrapper over and press to seal the edges.
Pleat the outer edge and pinch to make a decorative edge.
After all the gyoza are made, heat a non stick pan over medium-high heat and add a small amount of oil to coat the bottom. Place a single layer of gyoza in the pan and fry for several minutes until golden brown. Do not stir or shake the pan during this time. You want the one side to carmelize and stick to the pan (thus the name pot stickers).
When you can see the bottom edge turning golden, pour in a half cup of water, reduce the heat to medium and cover loosely. Cook for several minutes until the water is evaporated and the gyoza wrapper turns translucent.
Shake the pan to loosen the dumpling and invert onto a serving platter. Serve with a dipping sauce of ponzu (Japanese citrus flavored soy sauce), red chile flakes and sesame oil.